Signaling and Countersignaling
Extended abstract for Too Cool for School? Signalling and Countersignalling by Nick Feltovich, Richmond [Rick] Harbaugh, and Ted To, RAND Journal of Economics, Vol. 33, Winter 2002, 630-649. [Fittingly, the journal made us adopt the double-l British spelling convention.]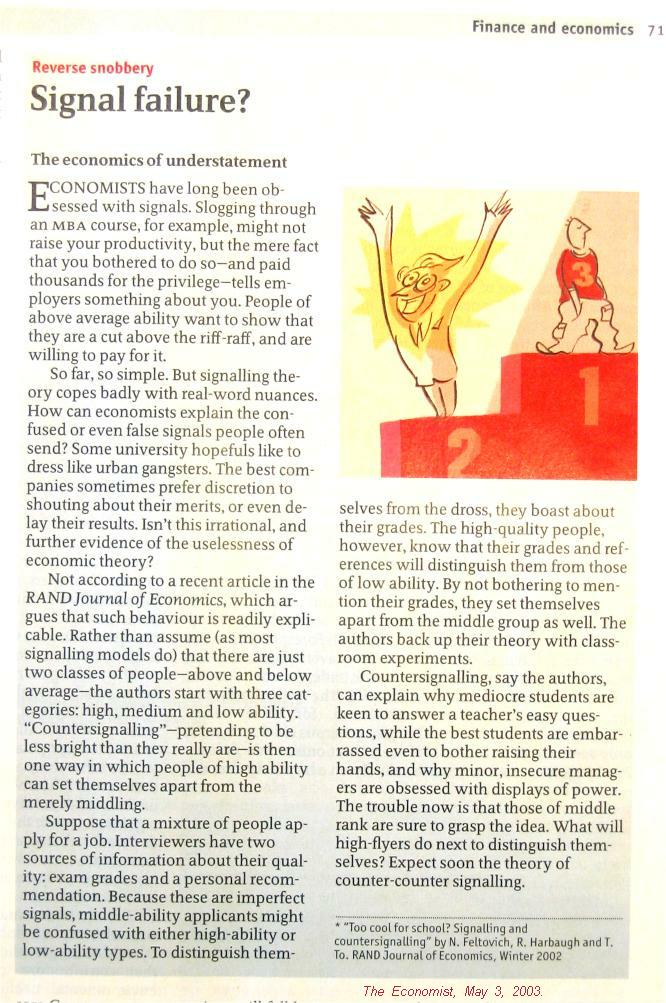 Why do the nouveau riche flaunt their wealth, while the old rich scorn such gauche displays? Why do mediocre students often outperform talented students? Why are moderate quality goods advertised heavily, while high-quality goods rely on their reputation? Why do minor officials prove their status through petty displays of authority, while the truly powerful prove their strength by avoiding such displays?
To understand how people can show off by not showing off, we return to Veblen's 1899 analysis of conspicuous consumption. Veblen argued that boasting about one's riches or spending money wisely is not enough to prove that one is rich - one must spend money on luxury goods or other wasteful activities. Spence's 1973 model of signaling formalized this argument by showing that wasteful actions can separate higher "quality" types from lower quality types if the action is less burdensome to the higher quality types. Spence's model quickly became a foundation of economic theory, used to explain behavior from advertising to financial structure. Zahavi's 1975 model of handicapped signaling (see his new book) showed how reasoning similar to that of conspicuous consumption can explain a wide range of animal traits and behavior. Features such as a peacock's elaborate plumage may handicap an animal, but nevertheless benefit it by proving to potential mates, rivals, or predators its ability to bear the burden. Grafen formalized this concept in 1990, showing that conditions similar to Spence's also apply to biology signaling models.
While these models explain showing off through wasteful "signals", they do not consider the opposing behavior of deliberately avoiding such displays so as to "countersignal" that one is above playing such games. We develop a theoretical model in which the signal is not the only information available to those judging the quality of the sender. For instance, wealth is inferred not just from conspicuous consumption, but also from information about occupation and family background. This extra information is likely to be only partially informative, meaning that types of medium quality may still feel compelled to signal so as to separate themselves from low types. But even noisy information will often be sufficient to adequately separate high types from low types, leaving high types more concerned with separating themselves from medium types. Since medium types are signaling to differentiate themselves from low types, high types may choose to not signal, or countersignal, to differentiate themselves from medium types.
While it might seem that the sender is just saving signaling costs by not signaling, we show that countersignaling can be interpreted as a signal of confidence that the extra information about the sender is favorable. This reverse signaling can invert a number of the standard implications of signaling models. Whereas signaling equilibria can be inefficient because of excessive signaling, countersignaling equilibria may be inefficient because of inadequate signaling. While signaling equilibria can play an informational role in increasing the efficiency of receiver estimates of type, countersignaling equilibria may lower the efficiency of these estimates. And while higher costs tend to reduce signaling in a signaling model, a limited increase in costs can lead to more signaling in a countersignaling model.
To offer further insight into this issue we report on an economic experiment conducted in 1995 to test the theory. The experimental results confirm that adding noisy exogenous information on types to signaling games can affect behavior in directions consistent with the predictions of countersignaling theory. Countersignaling was rare in the cell of the experiment where extra information on sender type was unavailable. But in the cell where such information was included countersignaling was the most common choice by the last period of the experiment.
Links